In The Market for a New Computer???
High End Computer -- Possibly Too Expensive
I get asked about
what new computers are good choices to buy
a lot, and I do have choices to recommend. And I have reasons for my choices. Most people, when looking for a new machine give too much weight to the initial purchase price, forgetting that over the life of the machine, there are other costs that can drive the total price a lot higher. Such as upgrades and repair. OF course, the price is important, too.
The first thing to remember is that the Most Expensive Thing about a New Computer will be ... Replacing it. The longer your machine lasts, the cheaper it gets! I mean "lasts", both in terms of being powerful enough, and working long enough.
It used to be that a computer might die before it became too slow or old to use, and a desktop or laptop at 7 years old or older running Windows XP was common. That's an old computer from a hardware standpoint and likely to fail. These days the burden placed on a new machine is getting heavier so rapidly, that, unless you buy a moderately powerful computer, it is likely to be unuseable for websurfing, online purchasing, or many common programs and services long before it is even 3 years old.
Buy the most powerful computer you can reasonably afford -- the difference in price may only be a few hundred dollars, but that will translate into a much longer and more useful lifespan, as well as a machine that waits for you, instead of you waiting for it.
Buy Computers with Core i7 or Core i5 (Mobile) Intel CPUs, or AMD Ryzen 5 or 7 (Mobile) CPUs instead of Core i3 or lesser processors -- they are more powerful and that makes a difference. Buy a computer with at least 8 GB of RAM or more, expandable to 16 GB or more (RAM is and will be cheap), and with at least a 500 GB SSD, or preferably 1TB.

There is a special issue now to consider with Solid State Drives, which you will want over the old mechanical spinning disks, and that is Size-Based Longevity. Whereas it did not use to make a difference how large the drive was in terms of how long it lasted, now it does. Because SSDs are limited to the number of writes they can perform before failure, and warranted for that in TBW, Terabytes Written, they are built to spread the writes over the whole drive evenly over time and minimize the number of times that data is written to individual cells in the SSD. So if you have a 500 GB drive and 400 GB of data, the drive will not be able to spread the load as much over time as if you had a 1 TB SSD, and you will exceed both the warranty, and the lifetime of the drive sooner than you may expect!

One Laptop I like and recommend is the HP Envy x360 machines seen below: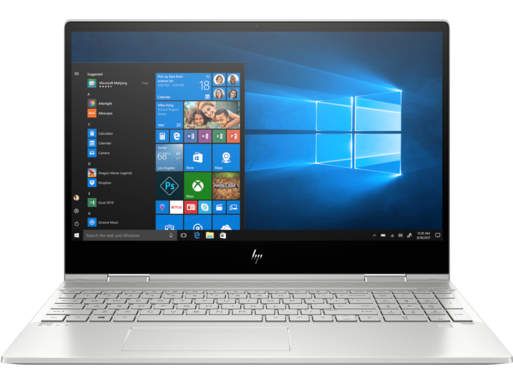 For the moment, these links seem to work, although they will not for too long:
https://store.hp.com/us/en/ConfigureView?catalogId=10051&langId=-1&storeId=10151&urlLangId=&catEntryId=3074457345619215318&quantity=1
https://store.hp.com/us/en/ConfigureView?catalogId=10051&langId=-1&storeId=10151&urlLangId=&catEntryId=3074457345619366819&quantity=1
https://store.hp.com/us/en/ConfigureView?catalogId=10051&langId=-1&storeId=10151&urlLangId=&catEntryId=3074457345619366821&quantity=1
Specs:AMD Ryzen 7 3700U 4.0 GHz 4-core CPU, 8GB RAM, 512GB NVMe SSD, Wireless-AC, Bluetooth, AMD Radeon 8 graphics, 1-year warranty, and Windows 10 Home
Both the
AMD Mobile 3500 3700 offer equivalent or better performance than the older 8th and 9th gen Intel Core i5, and i7 CPUs
, whereas
10th Gen Intel Core i7 have been measured to do better at lower power than the AMD chips but at a somewhat higher price
.
This computer is discounted now by
HP
for
$819.99
, or as I like to call it, $820. No discount code is needed.
Do get on the
TechBargains
, and
ExtremeTech
Mailing Lists for up to date notice of good deals. Do check Dell and HP for re-furbished Grade A machines with full warranty. Do check on Amazon for computers and monitors sold by Amazon with damaged boxing. I don't like buying computers from Amazon because the sellers are most often not warranted by the manufacturer because the sellers are not authorized. It pays to check. Some sellers are.
I got my beautiful new 32" 4k Samsung 1 millisecond response time, HDR10 monitor for over a $100 off just by checking to see "Other Sellers" and choosing one with a "Damaged Box". Same warranty, same equipment.
The seller was Amazon
. Don't care that the box was torn!
Don't buy a monitor by checking a box on the Dell or HP webpage -- those prices are too high. Check out the
Tech Bargains
website.
I will be giving a talk at the Kinnelon Library on this and other computers that I like this Wed., Dec. 18, 2019 at 7 PM. I will cover the following topics:
•
What Computers Should You Buy Now?
•
Tablets, Laptops, and Desktops
•
How Much Should You Pay and Where Should You Buy Them
•
What Computers Will Last the Longest Time
•
What Do You Need if You Just Want to Surf the Web and Do Email?
And, as usual,
we will have Question and Answer: Ask Your Questions, Bring in Your Laptop or Device for advice
.
All of you Kinnelon and North Jersey people, and everybody else, are welcome to come.
Call the Kinnelon Library at 973 838 1321 and reserve a spot.
~Ted